Dedicated Professionals
Our satisfaction comes from knowing our clients, friends and family well enough to successfully create beautiful, tasteful and memorable events.

Greg Neville
Executive Chef, Partner & Sommelier
Allora Catering & Events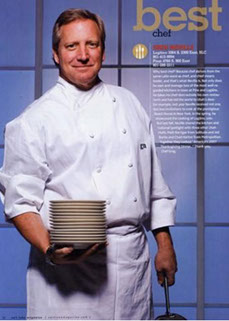 Gregory Neville is the Executive Chef, Partner and Certified Sommelier for Allora.
Originally from Newport Beach, Greg traveled, lived and attended school in Europe, with a special focus on World History and Italian Cuisine. After returning to California, graduating from UCLA and then receiving his Masters from Thunderbird, he held multiple Chef/Partner positions in the San Francisco and Los Angeles markets, with groups such as Spectrum Foods, Prego, Tutto Mare, and MacArthur Park. He was Executive Chef and Partner at Il Fornaio and Hotel Donatello in San Francisco, where he received the AAA Five Diamond Award. He later came to Utah as the Executive Chef for Gastronomy Restaurant Group and later Solitude Mountain Resort.
In 2000, Greg opened the beloved Lugano Restaurant in Salt Lake City – serving delicious Northern Italian fare. During his 13 successful years with Lugano, Chef Greg received numerous accolades and awards for his local, sustainable and seasonal menu.
He has been awarded Best Chef, Best Italian Restaurant, Best of State and was Zagat rated for more than 10 years. Greg was also invited to cook at the James Beard House for the March 2007 "Italian Lovers Dinner" and the 2007 "America's Thanksgiving Dinner".
In 2012, Greg received his Level II Certified Sommelier Certificate from the Court of Master Sommeliers in Northern California. In 2013, he was nominated by his peers to the 'Best Chefs America' annual publication.
Julie Paine
Chef, Partner, Sales & Marketing
Allora Catering & Events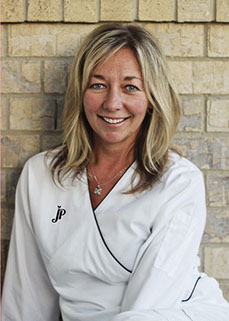 Julie Paine is the President and Owner of Allora Catering & Events. She is a member of the Park City Women's Business Network, and proud to be
one of the many women owned and operated businesses in the Park City area. Allora is an official Green Business, a member of the Park City Chamber of Commerce, and an Official In- Kind Partner of The Sundance Institute.
Growing up Greek on a farm in Providence, Utah, Julie learned the importance of food at a very young age. She spent as much time as possible with her parents and other family members, learning the basic principles and techniques of farming, gardening, harvesting, canning, cooking and living off the land. Upon turning 18, she moved to the East Coast to pursue her education and professional life.
Julie's first career was in the corporate worlds of American Express and eBay where she managed global incentive programs and corporate engagement for over 20 years. Her travels took her all over the United States and Europe where she worked with international sales & marketing teams, managed corporate communications, and organized and directed high level executive programs.
Julie's second career is much more interesting. She abandoned her corporate life and earned a degree in Culinary Arts. She attended post graduate studies in Verona, Italy, focusing on Italian language, culture and cuisine. Upon returning to Utah, she worked diligently in the hospitality and concierge markets, leading educational culinary programs, and ultimately creating, managing and opening the new concept restaurant Mollie & Ollie in downtown Salt Lake City.
Julie and her husband Greg continue to spend significant time in Italy. They both share a passion for all things Italian and plan to expand their private event business into Italy where they will live for part of the year.
Meike Long
Sous Chef, Catering & Event Manager
Allora Catering & Events

Meike Long was born in Kaiserslautern, Germany. She was raised by her grandparents, who taught her the art of growing vegetables and fruits. They taught her how to bake and cook and be grateful for all of the beautiful things the land gave.
Meike met her husband, Bob, in 1978 while he was stationed in Germany. In 1980, they were married and moved to the United States. Her love of gardening and cooking continued as she became a loving student of her mother-in-law, who Meike attributes was the greatest influence of her "culinary life". Together, they spent many years perfecting recipes, and cooking for their many social gatherings. They called this "cooking for a crowd". Meike was also very dedicated to the cooking shows on PBS with Julia Child and Jacques Pepin and spent significant time reading and studying cookbooks.
Today, Meike and her family live in Midway, Utah where she is a valuable member of Team Allora. She has also worked with The Corner Restaurant, Judy's Donuts, and in her spare time, created the Pretzel Connection where she makes authentic German pretzels for friends, neighbors and local businesses.
Amy Knight
Sous Chef, Catering & Event Manager
Allora Catering & Events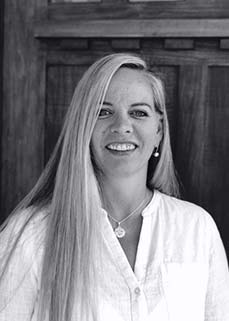 Amy Knight was raised on a farm in Idaho with a big family where food was always a central part of their life. From this upbringing, she learned to love cooking from a young age, and food continued to be a central passion of her life and perhaps… a bit of an obsession.
Today, Amy and her husband Ryan, are parents to 5 incredible sons, and live in Park City where she spends significant time in her self-designed kitchen preparing and creating healthy and delicious meals for the men in her life. Amy also enjoys hosting large dinner parties for friends, family and neighbors. Her love of food has also been a central element of her travels and led her to finding unique culinary experiences across the globe.
In 2016, once all of her boys where in school, she finally had the time to pursue this passion of cooking, and attended Park City Culinary Institute. Since graduation, she has been working as a private chef in the Park City area and is another valued member of Team Allora.

Just a few of our


Satisfied Clients

Read what they have to say about their beautiful, tasteful and memorable events.



"Thanks so much for last night. I … grabbed some of that red bicycle bread everyone is talking about and made the most amazing steak sandwiches with the leftover steak and onions and mushrooms. They were a big hit with everyone…!"
Shelby Nielsen
"WOW What a weekend! You guys are unbelievable and we are so appreciative of all your help! We got SOO many compliments with people saying it is the absolute best wedding food they have ever had!"
Kate & Bryan
"I want to thank you again for a lovely evening. We can't stop talking about how good everything was, from the food, the service and of course the hosts. You were so dear to think of me and fix my own delicious vegetarian dishes."
Laura Marks